Pete's Cabin is an Adirondack lodge, and is ready for campers of all ages. Each room in Pete's Cabin is climate controlled and boasts ten beds, two fans, electric lighting, and two full bathrooms. In addition, Pete's Cabin is centrally located next to our new pools and craft lodge and is just a short walk from the dining hall. A stay in Pete's Cabin means the comfort of home, right in the middle of camp!
Oak Place is our most recently renovated lodge, made up of four climate controlled rooms with three bunk beds each. In addition, each room has a fan, electric lighting and a full bathroom. The best part of Oak place isn't located in the rooms, but rather is the large living room and loft that connect the bedrooms. The living room has been known to host dance parties, amazing forts, late night card games and much more!
Trask has been housing our small groups for decades and has been updated as recently as 2015. Trask is climate controlled, consisting of three bedrooms, two living rooms, electric lights and three full bathrooms. Not to mention Trask has a fire pit and a full size sand volleyball court right in its backyard. With two living rooms and plenty of things to do right outside your cabin there is no telling where the shenanigans of camp will happen next!
The Highlander Cabins are a great way to begin to explore the outdoors. There are four cabins, each with eight beds, solar fans, and plenty of screened in windows to let the breeze in. The cabins are in pairs, sharing an outdoor restroom complete with a sink, two bathrooms, and two hot water showers. These cabins are right in the middle of our forest giving a great opportunity to hike trails, find waterfalls, and see wildlife that may be missed at other sites. Each night you get to have cabin time where you play cards, make friendship bracelets and tell stories while getting to use your flashlights and a lantern. There is no end to the cool new experiences you will find at the Highlander Cabins!
Wilderness Sites
What sets wilderness sites apart from all the rest is that each camp at a wilderness site gets to cook and eat their meals outside. The wilderness experience is so much more than eating outside though. Being able to light fires together, cook together, and clean together gives opportunity to build leadership and teamwork skills while serving together with you new camp family. This time together is irreplaceable in building relationships and leaving lasting memories including food fights, late night conversations around the fire, and learning about God's creation in the middle of the forest.
Our platform tents are most commonly referred to as the Hogans. Each campsite consists of two Hogans, both of which can fit eight people comfortably on our new cots. The site also includes a fire pit, picnic tables, flush-able toilet, and a sink. The Hogans are a camp favorite for sleeping, opening the flaps on both ends to let in the breeze, there is no cooler night's sleep on site.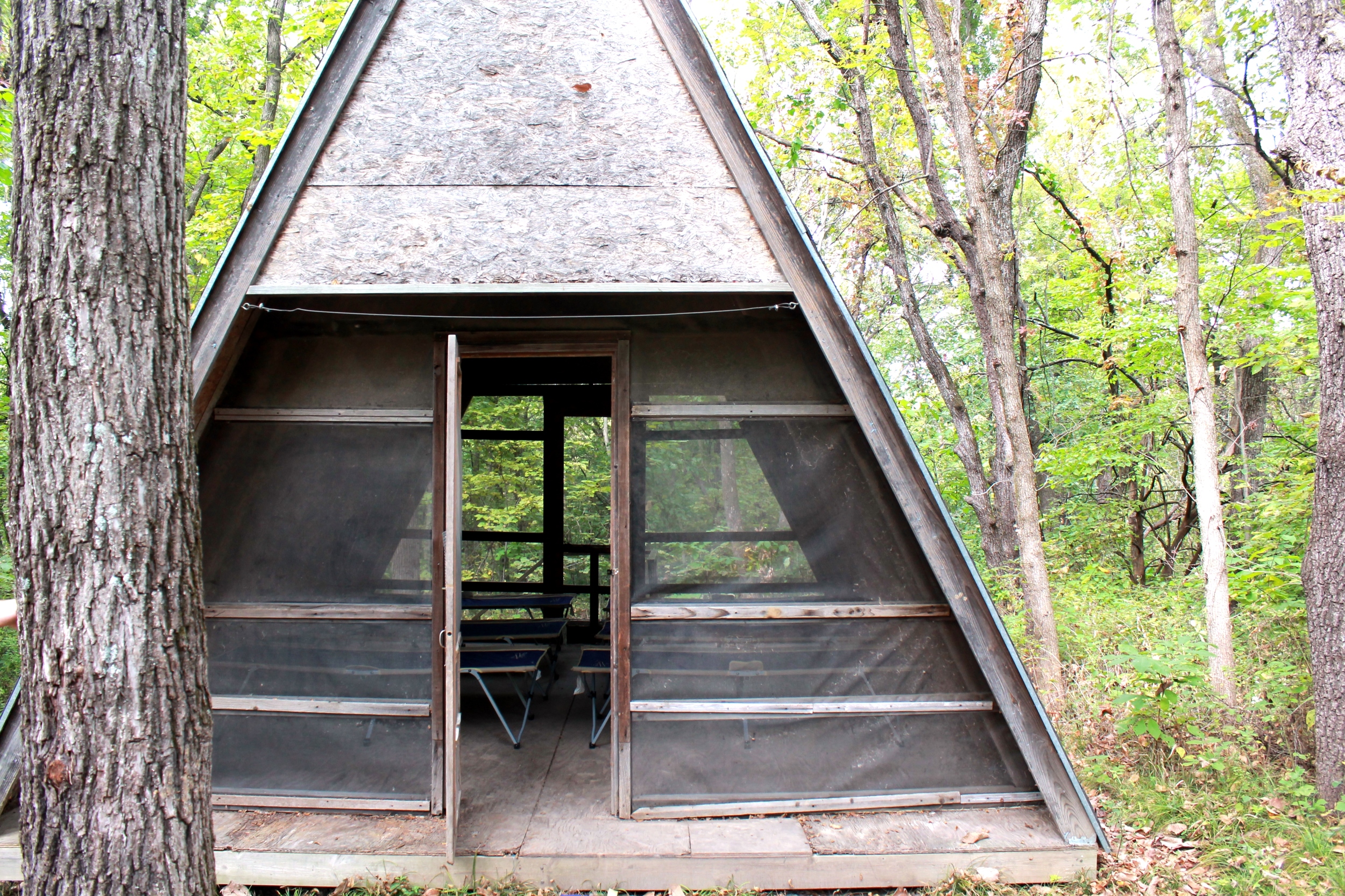 The A-Frame cabins are permanent hard top structures located at two campsites. Each campsite has two A-Frames capable of sleeping 8 people comfortably on our new cots. In addition each campsite has a fire pit, a picnic table, flush-able toilet and a sink both with running water. The A-Frames have screens on both ends of the cabin to keep out the bugs while letting in the cool night breeze for a great nights sleep.